By BOB OKON – [email protected]
JOLIET – Tyler Kelly wants to start a Rialto youth movement.
Kelly, 24, and his brother, Chris Kelly, 27,who are the third generation of the family to work as stagehands at the Rialto Square Theatre, were at a City Council meeting Dec. 14 when theater management underwent severe criticism by one of the council members.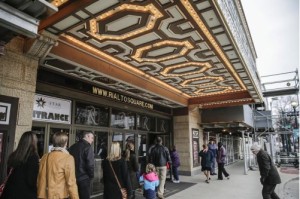 They went home and talked late into the night about issues facing the Rialto, its future and how to get young people involved.
"It really struck a chord with my brother and I," Tyler said. "It kind of made sense. No one is doing anything. Why not us?"
Two days later, Tyler and Chris were at a meeting of the Rialto board offering to create a youth action committee.
"I feel like there needs to be some kind of youth activity," Tyler told the board, adding that he was not a stranger to the theater. "I've been to the Rialto almost since I could walk. I'm third generation. It's in my DNA."
The Kelly brothers' father, Tim, also is a member of the International Alliance of Theatrical Stage Employees Local 124, which works at the Rialto. So is their grandfather, Robert, a former Joliet police detective. The brothers' offer was welcomed by Rialto general manager Randy Green.
"I am delighted that you came here with that intent," Green said. "You are absolutely welcome. I would appreciate an opportunity to work with you and your guys."
Tyler is just getting started and plans to begin contacting people after the holidays. His goal is to involve a younger generation in the Rialto and believes there will be great interest.
"Almost any band that I talk to, they would actually kill to have a shot to play on the stage of the Rialto," he said.
Tyler believes younger people would love the Rialto for the same reasons older generations do.
"It's the tradition of the Rialto and the people who have played there previously," he said. "It's just a very traditional and a very beautiful place. … You feel nothing but caring and love, in my opinion, when you're in there because everyone is passionate in what they do."
Younger people, however, aren't necessarily passionate about the acts at the Rialto, and Tyler believes that can change.
As he told the board last week, "I feel there needs to be a youth voice heard." No one disagreed.
The original Herald News Link follows….
Rialto stagehand wants more youth involvement at Joliet theater